HISTORICAL SIGNIFICANCE
Capes Dam's original purpose was to move additional water through a slough that became a Mill Race area to aid in the production efforts of a local saw mill and cotton gin.  The Mill Race has an irrigation record which dates back to September 9th, 1895, filed by a well known Veteran Dr. William Alexander Thompson, and currently forms several islands called the Thompson Islands.  In 1994 the mill, along with the islands, received the honor of receiving a  Texas Historical Marker, which is  still present today. In 1985 it was officially listed on the National Register of Historic Places.  The Thompson-Cape Dam and Ditch Engineering Structure was the site of the first important industrial activity in Hays County and listed under the identification 41HY164. The dam, artificial sluiceway, and mill-wheel foundation were built along the San Marcos River in 1865.  It comes as a surprise to many San Marcos residents that the SMCC would rather destroy these historical landmarks rather than restore and preserve these significant parts of the local history.  For more information on the historical significance surrounding the dam, visit http://www.nationalregisterofhistoricplaces.com/TX//hays/state2.html.
Capes Dam and the Mill Race are listed on the National Register of Historic Places as an Archeologic site for its engineering significance in 1985.  This was the first Industrial business in San Marcos.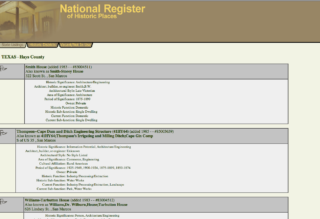 Capes Dam was originated in 1866 and originally known as "Thompson McKie and Davis Mill Dam"  It's original purpose was for milling and grinning cotton.  The ditch or as we call it the Millrace has an irrigation record that was filed September 9th, 1895 by a well known Veteran Dr. William Alexander Thompson that currently forms a nice size island called Thompson Islands.  In  1979 and 1994 it received a Texas Historical Marker.  He is one of the first to settle here in San Marcos.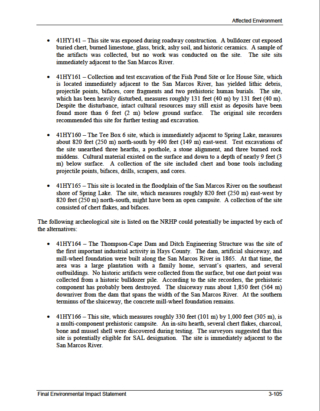 There are two Historical markers on this amazing person that did so much in his life.  One in 1979 and 1994.  Dr. William Alexander Thompson (1803-1879) made an agreement with neighbors in 1850 to use the San Marcos River for irrigation and as a source of energy. He and his sons William A. and James used slave labor to build a gristmill, sawmill and cotton gin. The land masses formed by digging a ditch for the waterwheel and a sluiceway from the river were called "Thompson Islands." The Thompsons directed the business until 1911 when John Matthew Cape (1861-1933) bought the mill. The use of electricity in 1942 ended the mill's need for water power.
Conway and River Road San Marcos, Texas
Hays County
Year Erected: 1979
There is also record and court recordings Cape Vs Thompson in regards to the water rights in 1899.  Here is the link to the documentation. Please look at page 681-688
The Texas Civil Appeals Reports
The Mill seems to be one of the first approach to produce water power with out building a dam to drastically increase water levels thus creating a "head" of pressure.  Thomson had a 1,850 ft raceway built that would create a waterfall to turn a large wheel.  Website here and page 5 will explain more
https://books.google.com/books?id=gsIrODWOsgYC&pg=PA92-IA4&lpg=PA92-IA4&dq=Thompson+Island+san+marcos+tx++history+book&source=bl&ots=EHBv5Lq2Qm&sig=KXI1zprjtEfz7M8zRS-VM1QaFR8&hl=en&sa=X&ved=0ahUKEwiRtNv64cHMAhVBVGMKHZROAjYQ6AEISTAH#v=onepage&q=Thompson%20Island%20san%20marcos%20tx%20%20history%20book&f=false
More additional history from Texas Parks and Wildlife here:
https://tpwd.texas.gov/publications/pwdpubs/media/pwd_br_t3200_003_3_15.pdf
Thomson is also mentioned in
The Law of Waters and Water Rights: International, National, State on page 1772 on Rights between Individuals.
https://books.google.com/books?id=PjkgeZ2l4EoC&pg=PA1772&lpg=PA1772&dq=Thompson+McKie+dam&source=bl&ots=w2ndsHNYgC&sig=42zjSFhDNFNnY8pHS0_P6qWtlbw&hl=en&sa=X&ved=0ahUKEwiQ3L-92MHMAhUW3GMKHeW2B7cQ6AEIRDAH#v=onepage&q=Thompson%20McKie%20dam&f=false
Thompson's Islands – Texas Historical Markers on Waymarking.com
Thompson's Islands – Texas Historical Markers on Waymarking.com

Islands were due to a 19th century mill located on the river.
Below you will also see an article from Molly Cummings and commenting on Hardys defensive  comments back to her when she simply asked city council to ask for other opinions about the habitat.
http://smmercury.com/2015/09/22/letter-no-one-is-omniscient-about-best-call-for-capes-dam/#comment-3590422
Here is some of the latest news about what is so controversial.
From: Ben Kvanli <ben.kvanli@olympian.org>
Date: April 28, 2016 at 11:35:02 PM CDT
To: brian olson <advocare_olson@yahoo.com>
Subject: Capes news and reports
Hardy study:
http://www.edwardsaquifer.org/documents/2009_Hardy_%20FlowRegimeEvaluation.pdf
http://www.sanmarcosrecord.com/opinion/destroying-cape%E2%80%99s-dam%3A-let%E2%80%99s-keep-san-marcos-%E2%80%98weir%E2%80%99
http://www.fox7austin.com/news/local-news/113868746-story
https://star.txstate.edu/2016/03/28/some-citizens-and-residents-of-the-woods-oppose-the-removal-of-capes-dam/
https://star.txstate.edu/2016/02/29/civil-war-era-spring-lake-dam-to-be-restored/
http://www.twcnews.com/tx/austin/news/2015/08/31/san-marcos-council-reviewing-fate-of-cape-s-dam.html
http://www.texasstandard.org/stories/tearing-down-this-san-marcos-dam-could-hurt-business/
http://smmercury.com/2015/09/15/letter-destroying-capes-dam-destroying-critical-habitat/
http://kxan.com/2015/09/01/san-marcos-city-council-to-review-dam-damaged-by-memorial-day-floods/
http://legacy.kvue.com/story/news/local/hays-county/2015/09/02/san-marcos-debating-future-capes-dam/71622344/
http://www.mystatesman.com/news/news/fate-of-dam-on-san-marcos-river-divides-community/nnT7f/
Even our students are debating about our history and voted to keep the Dam!
San Marcos CISD
http://www.newsjs.com/url.php?p=http://smmercury.com/2015/09/18/commentary-dont-let-academics-sloppy-conclusions-obscure-the-facts-about-capes-dam/
http://www.newsjs.com/url.php?p=http://smmercury.com/2015/09/25/letter-removing-capes-dam-is-a-risky-gamble/
Please register to get updates and to let us know you support the cause! Fill out this form below.  We never spam.