RECREATIONAL SIGNIFICANCE
In addition to the historical and environmental concerns, removing Capes Dam will have a significant effect on the recreational activities in the area.  Cape's Dam and the Mill Race provide an outlet for many aquatic activities – including canoeing, kayaking, paddle boarding, fishing and swimming.   Boy Scouts of America organizations from all over Texas, rehabilitation programs designed to aid in the recovery of disabled veterans, and various other youth groups that visit San Marcos use this area as a training area and refuge from the flow of the main river channel.  Dr. Hardy's report shows slight increase in recreational ability without the dam but does not include popular activities such as swimming, fishing or Yoga paddle boarding as a form of recreation.  Just those 4 would be a compete loss if the Dam Removed.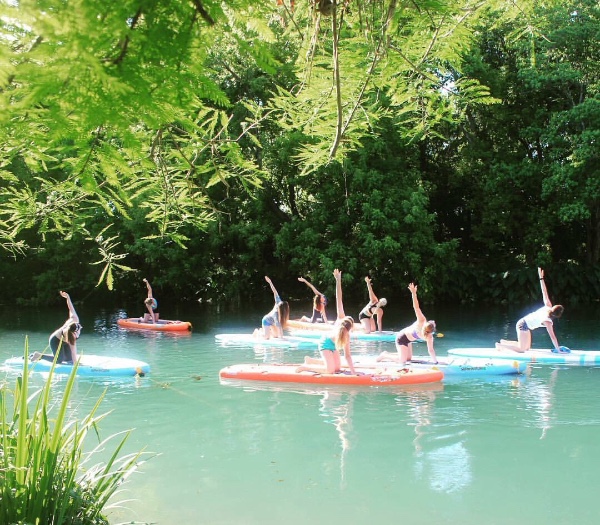 Ben Kvanli, a San Marcos resident who owns the Olympic Outdoor Center, a kayaking training school that provides therapy to veterans through kayaking, said removal of the dam will significantly lower water levels in that area of the river, thus threating the ongoing success of his business and Veteran rehabilitation programs.  "For us that's the main concern," Kvanli said. "That's where we train, so if you don't have enough depth then you can't do the exercises we teach to our customers."  Without the dam the width of the river will drastically narrow and will erase an area with little to no river current that our youth and wounded vets need for a safe river trip.  A bigger concern is losing the capability to paddle back upstream back to where your car is parked because of the higher velocity of water. Losing the Dam will choke off the left channel of the San Marcos River (Mill Race) which is heavily used for majority of youth groups, and people looking for a safe passage because if its slow moving water.
There are definitely two sides to this story, which is why San Marcos residents are urging the SMCC to allow additional research on both recreational and environmental impact and more discussion prior to finalizing the removal of the dam.  As the project stands there are still many unknown aspects and the associated costs.  What is the plan for the Mill Race, a ¼ mile stretch of river that is expected to go dry?  What is the cost of approximately 20,000-32,000 sq. yards of fill if it were to be filled in?  What is the cost and plan for areas such as the Thompson's Island waterfall that are expected to become stagnant when the Mill Race stops flowing?  Is it not in everyone's best interest to consider all factors and scenarios surrounding the removal of the dam?   Many hope next week's city council meeting with open the door for a more thoughtful and constructive discussion.
Recreation on our river is probably one of the first things people think about when you say the word "San Marcos".  We have the Lions Club Tube rental that has the only float in town that donates hundreds thousands of dollars each year back into our community.  We advertise in other city's and states that we have a great and clean water to come check out and play in from tubing, kayaking and canoeing.  We are able to capture a ton of revenue from tourism and local citizens that have chosen this area for leisure.  But if we do not have adequate depth of water even at times when our water flow (CFS) is low we will not have the proper depth of water to navigate down the river from Rio Vista to Capes Dam.  Dr. Hardy also mentions there will be an increase in recreation by 6% and will be a minimum of 2 feet in the river.   "Anything over two feet of depth would be OK for recreation," Hardy said about the amount of water his recreation data was based on whether "You can tube it. You can float a canoe." Then how,  on Monday May 11th, am I standing in the deepest part of the river from bank to bank just  under HWY 35, less then 1,500 feet from the dam in approx.  28 inches of water?  Also the CFS is nearly at 300 CFS which is unusually high.  The average of the last 6.5 years prior to the two floods is 146 cfs.  Look below at how many times it was below 100 in recent years and with the dam, it is very hard to navigate a kayak in ankle depth water.
Why was a hydrologist giving a recreation report?  Does that seem odd to anyone?  Someone that recommends removal also stated there will be increase of 6%.  But he did not even add swimming as a key part of what attracts people to our river.
But in August Hardy told Parks board there will be a decrease in recreation and loss of endangered species when the Dam is removed and the Mill race is not receiving water.  It was still voted to not to preserve the area.
Here is a link to those meeting minutes
Please register to get updates and to let us know you support the cause! Fill out this form below.  We never spam.